Future Focus Global Leadership Team
Jon is the founder of Future Focus Global. He has a successful background in business and systems consulting, seeking solutions to complex problems. Jon has a masters degree in Sustainable Leadership Development, and is passionate about exploring meaningful ways to make positive social impact.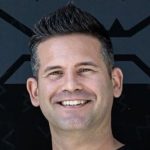 Head of Technology Innovation
Jeff is an experienced IT professional who focuses on how ideas and technology can be brought together to cultivate social innovation. As the CTO of Future Focus, he develops the technical strategies of both the organisation and the many social impact projects we are leading on.
Head of Community Wellbeing
Natalie has a rich background in educational development and has a passion for helping people to achieve the best version of themselves. Through this she is dedicated to cultivating positive wellbeing in the communities we have created both inside and outside Future Focus.
Andy is committed to ensuring Future Focus stakeholders stay informed and engaged. Whilst delivering clear and effective communication across the organisation and its wider audience, Andy works enthusiastically with our project teams to help them find their authentic voice.
Rachael has a wealth of knowledge and expertise in human resource management, stemming from senior roles in a number of organisations, as well as in her own consultancy business. Rachael is dedicated to ensuring all people-related matters within Future Focus are well managed and contribute to well-being and an energised and motivated culture.
Head of Youth Development
Simon is a social care professional with many years of experience, working across a number of senior management positions in schools and charitable organisations. He is also an experienced youth counsellor, facilitator and trainer and is key in supporting the Future Focus education programmes.
Head of Equality,
Diversity and Inclusion
Sara has a wealth of expertise in the field of accessibility. This stems from her own personal insights, as well as developing and supporting accessible services in the travel and tourism industry. Sara is passionate about supporting Future Focus in its quest for greater accessibility, inclusiveness and diversity.
Claire is a talented graphic designer and visual branding specialist who prides herself on building relationships with organisations to help them grow and realise their ambitions. As Head of Design, Claire helps Future Focus communicate its true purpose and identity in its mission to achieve valuable social impact.